66 DINER IS HOME TO ONE OF THE LARGEST PEZ COLLECTIONS IN AMERICA!
You'll see them lined up near the ceiling, illuminated by rows of neon… an amazing collection that includes the presidents, some of your favorite cartoon characters, movie and comic book characters and so much more!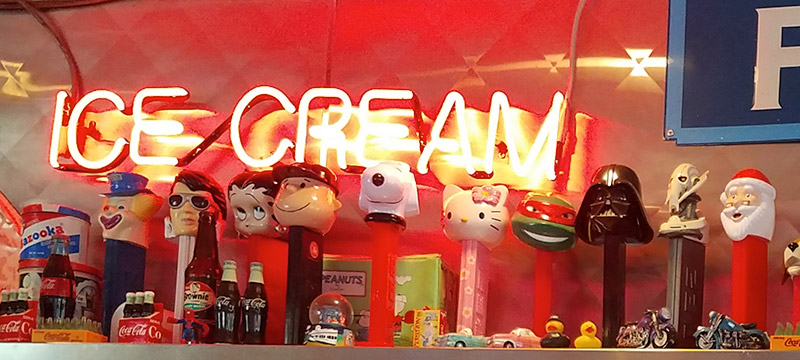 DID YOU KNOW?
PEZ was invented in Austria in 1927
The original flavor was pfefferminz (peppermint); the P, E and Z from the word pfefferminz were selected for the product name
PEZ was used in an anti-smoking campaign, thus a dispenser that resembled a lighter
Flavors were introduced in the 1950's to appeal American kids
The first character dispensers were a full-body robot, full-body Santa and a space gun
Star Wars PEZ dispensers have been the most popular licensed PEZ dispensers
Love PEZ? Want to know more? Visit https://us.pez.com/products/
FOR THE LOVE OF NEON!
It's easy to see that we love neon at 66 Diner… partly because it's synonymous with Route 66... and partly because there's nothing else like it! You'll see it on our building, and inside on signs, clocks and decorative trim.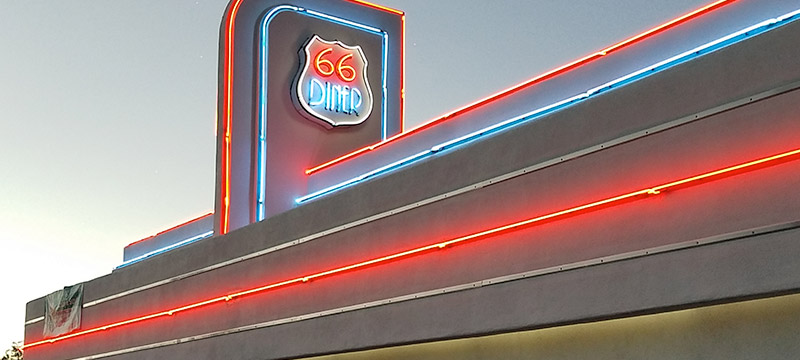 DID YOU KNOW?
Neon was discovered shortly after the discovery of Krypton in 1898
The gas glows with a red-orange glow when electrified in a vacuum tube
Although other colors are used in "neon" signs, those colors are actually due to the use of other noble gases
The first neon sign was sold in 1912
Neon was hugely popular in the 30's and 40's, but lost momentum after WWII
Neon's resurgence in the 21st century has seen applications in fashion, TV and movies, just to name a few
Want to know more? Visit http://neonlibrary.com/neon_sign_history.html
BETTY BOOP IS A REGULAR AT 66 DINER!
There isn't a day that goes by that Betty isn't at 66 Diner. Sometimes she stands alone against a wall… and sometimes she hangs out with our patrons!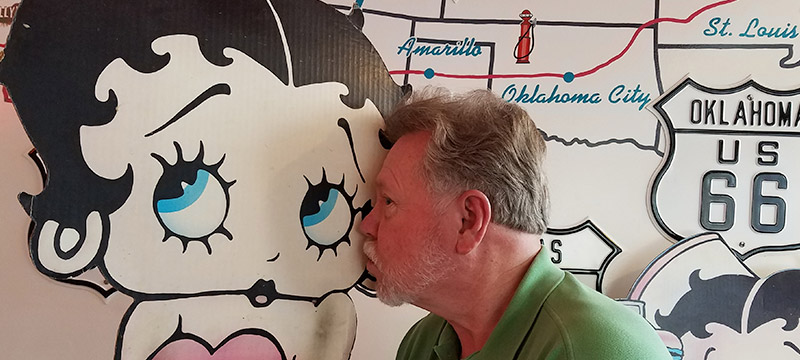 DID YOU KNOW?
Betty Boop was originally a caricature of singer Helen Kane and Jazz-era flapper girls
She was introduced as Betty Boop in 1932 and was highly controversial
She was "toned down" in the late 30's to conform with TV decency codes
Betty regained popularity in the 50's, but it was her resurgence in the 80's that elevated her, in her more original and suggestive form, to one of the most famous pop culture cartoons and icons in the world
Betty has her own emoji… available on the free #PepsiMoji keyboard
Are you a Betty Boop fan? Visit http://www.zazzle.com/bettyboop
IT'S ALL ABOUT THE SHAKE!
Milkshakes are as much a part of pop culture as Superman and the Simpsons, and nobody does them better than 66 Diner! Try our Grasshopper… or the Pink Cadillac… or the shake of the month. Try them all! We make every shake the old-fashioned way… right at the counter – hand scooping real ice cream into the blender canister with real milk… spinning in the other ingredients… and serving the delicious results in a tall, tapered glass, with the remainder in the tall stainless cup it was mixed in. No wonder we're New Mexico's #1 shake!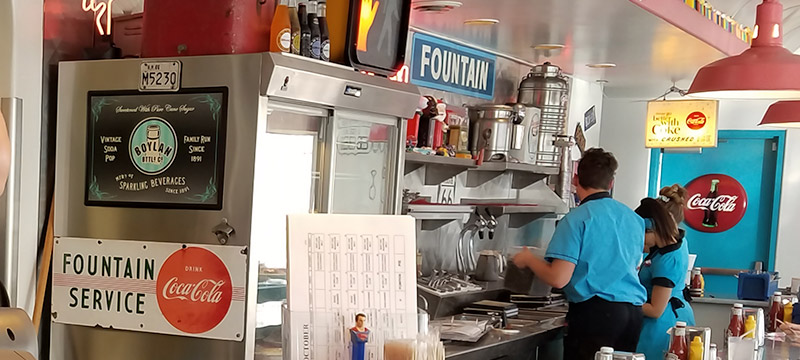 DID YOU KNOW?
The word "milkshake" dates back to 1885, but it wasn't until 1930 that the milkshake evolved into the popular milk and ice cream creation we know today, helped along by the invention of the electric blender in 1922.
Other names for milkshakes have included frappes, velvets and cabinets.
A "concrete" is a milkshake so thick that you can safely hold it upside down.
June 20th is National Vanilla Milkshake Day.
September 12th is National Chocolate Milkshake Day.
According to the Guinness Book of World Records, the world's largest milkshake was 6,000 gallons of scrumptiousness.
CHECK OUT OUR RETRO SIGNS!
It would be hard to miss the retro signs at 66 Diner… inside or out! We have a lot of them… particularly when it comes to our "Pileup" and "Fender Bender," walls of signs that are likely more photographed than anything else in New Mexico! Locals and tourists alike gather to take and share photos against these iconic backdrops.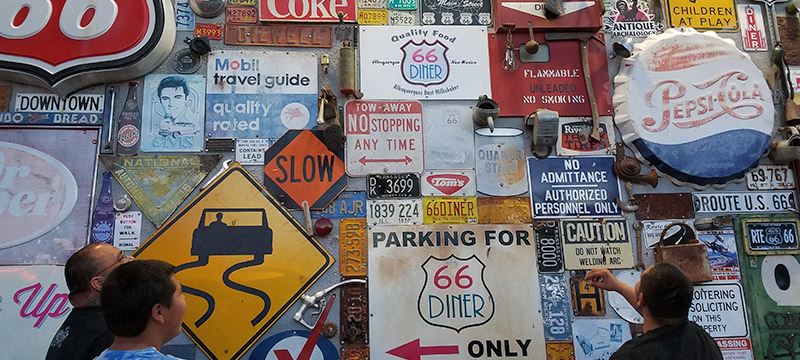 DID YOU KNOW?
Some of the most common vintage tin signs included Coca-Cola, automobiles, oil and gas and patriotic themes
Popular characters on vintage tin signs included Betty Boop, Batman, Spiderman and The Three Stooges
Looking for reproductions? A great site to visit is www.vintagesignshack.com