ROUTE 66 HISTORY
Dating back to 1926, Route 66's two lanes stretched from Chicago to Los Angeles across eight states… 2,448 miles!

Known as the Mother Road, thanks to John Steinbeck's The Grapes of Wrath, and immortalized in Bobby Troup's lyric Get Your Kicks on Route 66 as well as CBS TV's Route 66, Route 66 was foundational to our country's economic development.

And although new highways and freeways have replaced Route 66, the stories and iconic landmarks of the Mother Road bring people from all over the world to experience the legacy for themselves.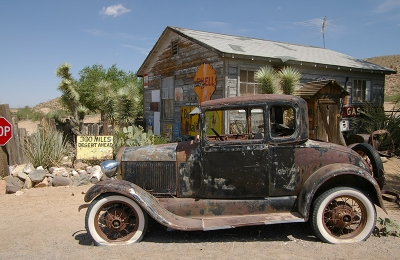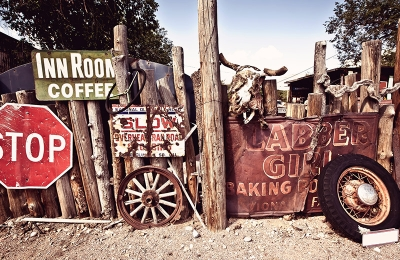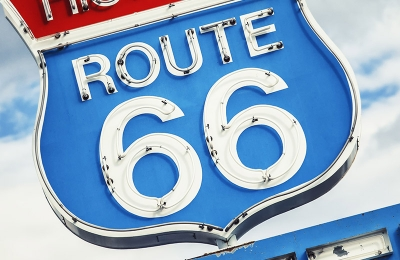 GET YOUR ROUTE 66 KICKS IN ABQ!
Route 66 is alive and well in Albuquerque! Our heritage of historical neon signs and iconic buildings is second to none. Just drive Central Avenue from one end to the other and you'll see why!

DID YOU KNOW? In Albuquerque, Route 66 originally ran north/south… then was rerouted east/west in 1937… making Albuquerque the only place in the nation where Route 66 crossed itself!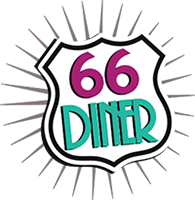 VISIT ALBUQUERQUE'S ICONIC ROUTE 66 LANDMARKS
66 DINER (SAM'S SIXTY-SIX SERVICE)
New Mexico's most visited historic Route 66 destination! | 1405 Central Avenue NE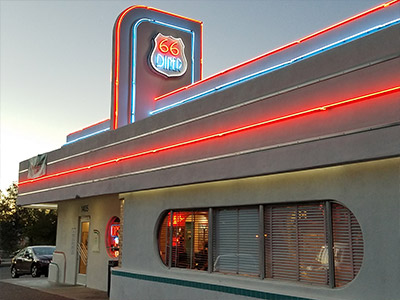 Originally built as a Phillip's gas station (Sam's Sixty Six Service) in 1946, the business soon expanded to include a service garage to better meet the needs of locals and Route 66 travelers. Converted to a diner in 1987, much of the original building is still intact, and the hydraulic lift "lives on" under the restaurant's hopscotch court!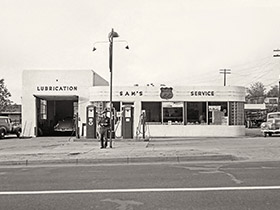 KIMO THEATER
World's first Pueblo Deco style theater | 421Central Avenue NW
Palatial inside and out and a treasured cultural landmark, the KiMo (translated "King of Its Kind) was built in 1927 as both a stage and motion picture theater. The KiMo is a unique blend of Art Deco and Native American designs, with every detail having historical significance. The theater is still in operation today and is open to the public for self-guided tours.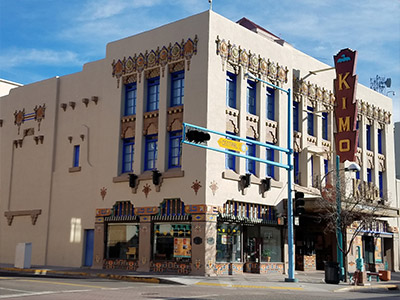 MAISEL'S TRADING POST
Largest selection of Native American Jewelry in the Southwest | 510 Central Avenue NW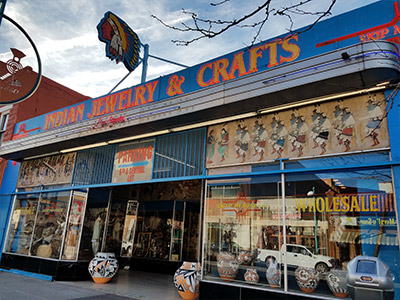 Built in the late 1930's, Maisel's grew to be the largest store of its kind in the world, with over 300 craftsmen working on premise to keep up with the ever-growing demand for Native American jewelry and crafts. Known as "Skip Maisels" today, the store continues to attract locals and tourists to its original Pueblo-Deco storefront on Central Avenue.
EL DON MOTEL
Iconic Route 66 Neon Sign | 2222 Central Avenue SW
Typical of the early motels along Route 66, El Don's neon cowboy riding a neon horse is an Albuquerque icon. The subject of post cards and ads decades ago, El Don's horse and rider are still photographed and loved by history buffs and travelers along the Mother Road.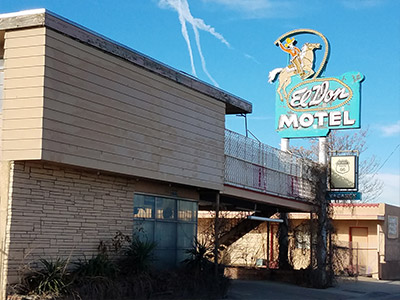 PITA PIT (THE PIG STAND)
Dates back to 1924 | 2106 Central Avenue SE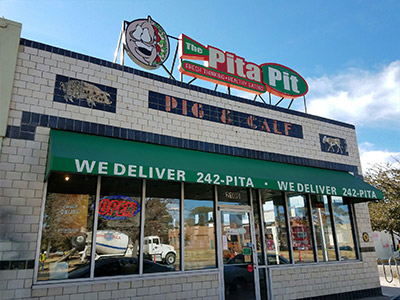 Originally opening as "The Pig Stand" in 1924, and becoming "Pig & Calf Barbeque" a few years later, the building that is now "The Pita Pit" still sports the name Pig & Calf along with stylized images of the two animals. Covered in black and white tile, the building stands as a reminder of Route 66's architectural and "flavorful" history!
KELLY'S BREW PUB (JONES MOTOR COMPANY)
Ultra modern service station in its day | 3222 Central Avenue NE
Built in the Art Moderne style in 1939 as a gas station, service station and auto dealership, the Jones Motor Company was noted as one of the most modern service stations in all of the western states. Changing hands several times since 1957, the building was converted into a restaurant – Kelly's Brew Pub – in 1999. Many of the original details have been preserved, including the original garage doors and the Texaco pumps.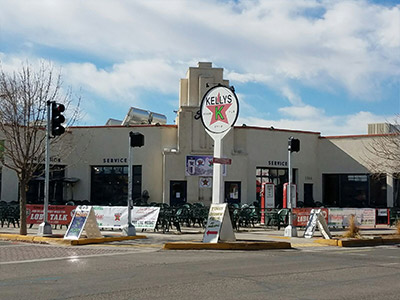 THE DOG HOUSE
A popular Route 66 destination! | 1405 Central Avenue NE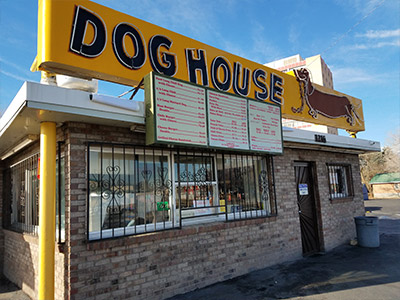 Popular decades before its debut in Breaking Bad, The Dog House is a Route 66 classic, serving "dogs" to locals and tourists from its tiny location on Central Avenue. Most notable is its animated neon sign – a dachshund happily wagging its tail as it nibbles through a string of sausages!
EL VADO AUTO COURT MOTEL
Closed, but still a Route 66 icon | 2500 Central Avenue SW
Considered one of Route 66's most notable architectural examples of a "tourist court," the El Vado was "rescued" by the City of Albuquerque in 2005 when a developer wanted to level it. Today, the unique building, stand as a reminder of a time when the mystique of New Mexico's pueblo culture invited travelers to make their way to Albuquerque via Route 66.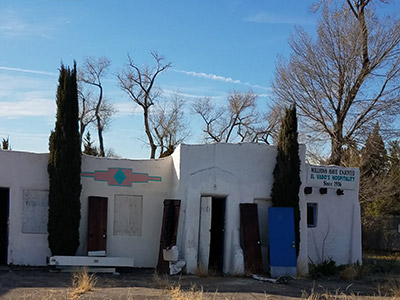 NOB HILL SHOPPING CENTER
New Mexico's first drive-in shopping center | Corner of Central & Carlisle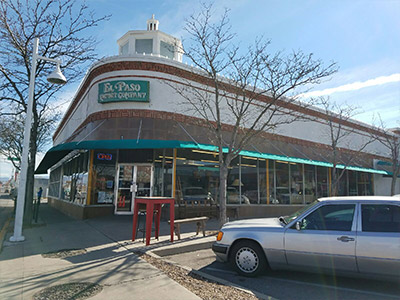 Back in 1946 when the Nob Hill Shopping Center was built, the concept of a parking lot integrated with separately-owned business, all housed in a single building, was revolutionary. The concept has withstood the test of time as the original building is still home to shops, restaurants and service providers. Albuquerque's ABQ Uptown is the modern version of this early innovator.